SIMS Help
If you have technical questions, or are experiencing problems using SIMS, we offer a variety of support options for SIMS customers, including:
Technical Troubleshooting
Clarification and Explanation of Support Documentation
Unlimited telephone support
Unlimited email support
Next Business Day Guaranteed Response Time
If you are experiencing difficulties, or if you have a question, you may notify us using any of the following methods:
Fill out a Support Ticket
Fill out a support ticket from your Administrative Panel, so that your issue is logged into our support system and within your knowledge base (Office Hours & Off Hours)
Next Business Day Guaranteed Response Time.
Send us an email
Send an e-mail to
support-sims@sencia.ca
(Office Hours & Off Hours)
Next Business Day Guaranteed Response Time.
Call Support
Call us at 807-768-6603
(Monday - Friday, 9:00am - 5:00pm EST)
Call Support Toll-Free
Call us toll-free at 888-817-3707
(Monday - Friday, 9:00am - 5:00pm EST)
Support
If you have a question or problem with your website, email, or SIMS Editor, you may contact us directly from your Administration Interface. You may also search the Knowledge Base to see if the issue you are experiencing has already been reported and remedied, or to see if it is a known issue.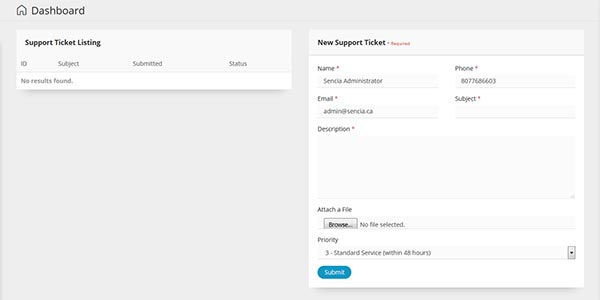 Creating a Support Ticket
Support Tickets can be filled out by logging into the SIMS administration area. The support page is located on the main dashboard upon logging in. Alternatively, you can reach it by selecting the Support tab under the Admin Menu on the left.
In the Support Ticket area, enter your Name, E-Mail Address, and Telephone Number in the fields supplied. By default, the information your SIMS account was registered with will be filled in this area to make this step easier.
Enter a Subject for the Support Ticket. Try to keep the subject brief and concise. You can expand on your subject in the description field.
Choose a priority for the Support Ticket. If your problem is URGENT, set your priority level to HIGH.
In all other cases, leave the ticket priority at LOW.
Optionally you may wish to include a file or screenshot of your issue in the Attach a File field.
Click the Submit button to generate your support ticket.
A Sencia Support Team Representative will be in touch with you as soon as possible to respond to your query.
Important!
HIGH priority support tickets during off hours may result in a fee.